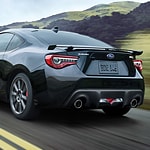 We admire standout autos at DCH Subaru of Riverside, and we'd like to share the Subaru BRZ with you today. Probably, you consider Subaru a maker of durable, AWD vehicles. While the BRZ is durable, it breaks with Subaru's tradition. Consider this model Subaru's time-trial car.
You can meet the Subaru BRZ at our comfortable Riverside, CA location. When you visit, you will see an elegant sports coupe. Its curves indicate its air-slicing capability. Your choice from BRZ's six-shade paint selection indicates your on-road personality. If you seek an atypical paint finish, we suggest Ceramic White.
Within your Subaru BRZ, you gain control of a Boxer engine through a six-speed, manual transmission or an automatic setup with steering-wheel paddles. The Boxer engine's horizontal design lets Subaru place its power plant deep within the BRZ's body. You will enjoy the subsequent quick responsiveness as you hustle around corners. Indeed, you will enjoy the Subaru BRZ's many attributes.