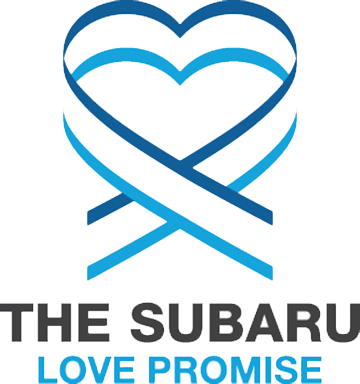 What is the Subaru Love Promise?
Subaru and our retailers believe in making the world a better place and the Subaru Love Promise is our vision of respecting all people. This is our commitment to show love and respect to our customers and to work to make a positive impact in the world.
How is DCH Subaru of Riverside dedicated locally to the Love Promise?
At DCH Subaru of Riverside, we are committed to being more than just a car retailer. We believe in making our community a better place. It's our pledge to do right by the community in which we all live and work. That's why we volunteer, donate, and fundraise for our many local charity partners. It's our way to give back and bring the Subaru Love Promise to life in Riverside.
Mary S Roberts Pet Adoption Center
John Adams Elementary School
Make-A-Wish Orange Co. and Indland Empire, Operation Safe House
Riverside Community Cancer Center, Ronald McDonald House Inland Empire, Villa Health Care Center
Love Promise Stories from DCH Subaru of Riverside
Subaru and DCH Subaru of Riverside believe in making a positive impact on the communities in which we live and work. We uphold that belief through our Love Promise Community Commitment. Every month, we select inspiring stories from customers and partners from around our area who strive to support our collective commitment and feature them here
IE Ronald McDonald House Charity - Chetay C. - Chetay C
The Inland Empire Ronald McDonald House Charity and I would like to express our sincere appreciation to the amazing, wonderful Team/Staff at DCH Subaru of Riverside for their amazing generosity supporting our charity, our IERMH families, Meals of Love and our 2021 Walk for Kids Virtual. Sonya and the entire DCH Subaru of Riverside Team have been a huge blessing to the IERMH. Sonya & the team have gone above and beyond supporting the IERMH, from socks & koozies sales, Walk for Kids Tee Sign, donating food & supplies to our families, plus providing dinner to all our IERMH families through our Meals of Love from Olive Garden, to setting up a DCH Subaru of Riverside Team for our 2021 Walk for Kids Virtual. Thank you, Sonya! Thank you DCH Subaru of Riverside Team. We are forever grateful.
---
Congratulations on granting your 16th Wish! - Rossana P
Thank you DCH Subaru for raising over $135,000 for Make-A-Wish and granting your 16th wish for a local wish kid! Congratulations and thank your from our Make-A-Wish team.
---
Helping Homeless Pets at the Mary S. Roberts PAC - Molly S
Shout out to the amazing employees from DCH Subaru of Riverside who volunteered their time helping at the Mary S. Roberts Pet Adoption Center Thrift Store. While at the store, they organized racks of clothing, rehomed misplaced merchandise, added donated items to the sales floor, and even treated the Thrift Store staff to some delicious muffins. Then they stopped by the Mary S. Roberts Pet Adoption Center to drop off lots of donations (so many items, that they filled a Subaru). We are so grateful for the pet food for our Pet Food Assistance Program; we'll keep our adoptable pets busy with enrichment activities made from the chicken broth, applesauce, and treats you brought; and we can't wait to put the cinch-sacks, collars, leashes, and bandanas to use. Everyone from your dealership was so friendly and generous that we just couldn't let them leave without showing them around and sneaking in some puppy snuggles. From all of the staff, volunteers, and pets of the Mary S. Roberts Pet Adoption Center, we thank you all so much!
---
Spark of Love Toy Drive - Sonya R
"Thank you DCH Subaru for all your support and for collecting the hundreds of toys donated this year," Jennifer McDowell, Division Chief, City of Riverside Fire Department. In celebration the Holiday Season, DCH Subaru of Riverside was proud to support the ABC7 Spark of Love Toy Drive to benefit the local Riverside community. In the spirit of the Subaru Love Promise, and through the generosity of our employees, customers, and the community, we collected over 7 truckloads filled with hundreds of new of new, unopened toys. To brighten the holiday season, Riverside Parks and Recreation distributed these toys to local Riverside families.
---
DCH Subaru Shares the Love by granting wishes! - Rossana P
We are honored that DCH Subaru of Riverside has chosen Make-A-Wish's local chapter in Riverside as their hometown charity as part of the Share the Love event. Through their partnership with our local Make-A-Wish chapter they have donated over $90,000 and granted 15 wishes to local children. This year they donated $34,999 and granted Pavel's wish of having a gaming system. Thank you DCH Subaru for everything you do for the community and for our wish kids. We are so grateful for your amazing team!
---
Safe House - Julie H. - Julie H
I would like to express my sincere appreciation for DCH Subaru of Riverside donating four boxes of blankets made on November 16, 2020. Despite how difficult the COVID-19 pandemic been on everyone, the generosity and dedication from our community has never wavered. We thank you and you staff for taking the time to drive over and visit with us. Your gift will be used to support our mission of providing emergency shelter, intervention and outreach services to runaway, homeless and other youth in crisis. Thank you
---
Bringing Smiles to Children! - Samantha V
On Tuesday July 2nd, the Leukemia & Lymphoma Society Orange County Inland Empire Chapter and DCH Subaru Riverside had the pleasure of delivering 80 blankets and 30 arts & craft kits to a local hospital as part of the SubaruLoves To Care program. These comforting gifts were hand delivered by LLS staff Dayna and Subaru general manager Amin, to children and their families as they received treatment. These generous gifts brought smiles to children who were especially excited for their arts & craft kits which will help them stay busy during treatment. Many thanks to everyone at DCH Subaru of Riverside for supporting LLS's mission to cure blood cancers and improve the quality of life of patients and their famiies.
---
DCH Share's the Love with Make-A-Wish OCIE! - Jessica O
As part of their Share the Love event, DCH Subaru of Riverside chose Make-A-Wish's local chapter in Riverside as their hometown & fifth charity that customer's could choose to receive a donation when purchasing their car. Through the campaign, DCH Subaru was able to donate nearly $28,000 to help grant wishes of children with critical illnesses in their local community. The amazing team at DCH Subaru of Riverside presented us with a check and Make-A-Wish presented them with Parker's wish to have special needs equipment to help him move better! Thank you so much DCH - we are so grateful for our continued partnership!
---
Partnership with LLS - Samantha V
The Leukemia & Lymphoma Society (LLS) Orange County Inland Empire Chapter partnered up with DCH Subaru of Riverside to deliver 80 blankets and 50 craft kits to cancer patients at the Riverside Community Cancer enter on Thursday, June 28. General manager Amin Noori along with his colleague from DCH Subaru and LLS staff members Samantha and Ariana, came together to deliver the blankets and craft kits. The items were delivered to Christina who is the vice president of oncology services. She and the staff were going to distribute the blankets to the patients and the craft kits were going to be given to the kids to keep themselves busy while they waited for their parents to finish their treatment. Christina was very excited to be a part of the LovesTo Care program again this year. She expressed her gratitude and explained that the blankets bring smiles to the patients. Christina gave us a small tour of the facility and explained how patients are provided with care.
---
Partnership with Leukemia & Lymphoma Society - Khushbindar S
DCH Subaru of Riverside, California partnered with the local Leukemia & Lymphoma Society Chapter in Orange County Inland Empire to deliver blankets to cancer patients at Riverside Community Hospital's Cancer Center on September 11. DCH Subaru's General Manager and staff met with the hospital's cancer center's medical director, associate vice president and oncology nurse to learn about how patients are provided with care, linkages to services and referrals. Subaru and LLS staff delivered blankets and craft kits to hospital staff for distribution to cancer patients utilizing the facility. This partnership opportunity increases awareness on the needs and services provided to the local community in Riverside. Visit our website at www.lls.org to learn about the Leukemia & Lymphoma Society and learn about the local activities in your area by visiting http://www.lls.org/orange-county-inland-empire
---
A special wish to meet the Oakland Raiders - Maria Z
Make-a-Wish and DCH Subaru of Riverside granted Josiah a special wish to meet the Oakland Raiders. Josiah M., a special kid with a heart condition since birth wanted to meet the Oakland Raiders, his team that he never misses watching a game. After he flying to Oakland, he became an employee for a couple of days, spending time with the team and others within the organization. His favorite players are #52 Khalil Mack, and #4 Derek Carr. For gameday, Josiah got to be in the locker room and tell different players what he wanted them to do that day. Then he got to participate in the coin toss, team huddle and be on the sidelines during the game. The Raiders beat the Broncos 30-20 that day, and was the culmination of a fabulous wish granted. Link to Today show story of Josiah's wish. http://abcnews.go.com/GMA/video/12-year-boy-heart-condition-nfl-43595649
---
Sharing the Love with Local Make-A-Wish Chapter - Maria Z
On Friday, December 16th, DCH Subaru of Riverside hosted a Share the Love event with the local chapter of Make-A-Wish of Orange County and the Inland Empire. Our volunteer Bryan Allen and I represented Make-A-Wish at the event. Years ago, Bryan's son Adam Allen was diagnosed with a non-operative brain tumor and was a recipient of a granted "Make-A-Wish" that sent Adam to meet Green Bay Packer's receiver Donald Driver, along with quarterback Aaron Rogers during his rookie season at a game at legendary Lambeau Field. Today, Adam is 22 years old, and has very fond memories of that day in Wisconsin. This granted Wish made such an impact that Adam along with his dad, sister and mom have become Make-A-Wish volunteers. Giving back to the charity that granted Adam his wonderful experience truly helped Adam in dealing with the operations, doctors and his recovery. We thank DCH Subaru of Riverside the opportunity to share Adam's story, and the work that Make-A-Wish does on a local level like this. Thanks for bringing their customers and employees into our mission for children with life-threatening medical conditions to enrich the human experience with hope, strength and joy.
---
Subaru Loves Learning at Chemawa Middle School - Raul A
We at Chemawa Middle School were thrilled when our local neighbor, DCH Subaru of Riverside, chose our school for the Subaru Loves Learning event. The award winning science books were delivered by Scott McAllister, General Manager, and Rick Thiebaud, Service Manager. What joy to be able to add these donated books to our library and/or science classrooms! Thank you Subaru for including education in your Love Promise. Our kids are the future and thanks again to DCH Subaru of Riverside and their customers for their participation and generous donation.
---
Girls help save the monarch butterfly - Jeffrey F
Monarch butterflies are in trouble. Over the last few decades, populations of these iconic orange and black butterflies have declined by over 90 percent. Like all butterflies, monarchs lay their eggs on select plants, called "host plants." These are the only plants their caterpillars can eat, and for monarchs, milkweed is their only host plant. In an effort to make a difference for monarchs, Alyssa and Kaite took it upon themselves to reach out to their local neighborhood where, as recently as the early 1980's, had a rich history of agriculture and citrus fruit production. Today, a major of the portion of the neighborhood has transitioned from agriculture to suburban neighborhoods altering the region's landscape. After hearing about the Subaru Loves the Earth and the plight of the monarch butterfly at DCH Subaru of Riverside, the girls decided to go door to door delivering Butterfly Milkweed Seeds provided by DCH Subaru of Riverside. They urged the community to plant milkweed in their yard or garden in an effort to strengthen the ecosystem that monarchs rely on for survival. Katie asks, "Who wants to live in a world with no butterflies?" You can help be part of the solution too. Come to DCH Subaru of Riverside, where you can pick up a pack of Butterfly Milkweed Seeds to plant in your yard or garden.
---